Webinar: Sticks & Bricks, a New Framework for Appraisal & Lending Criteria
Nov 14, 2023 3:00PM—4:00PM
Location
Live Webinar
Cost $0.00
Categories free event, webinar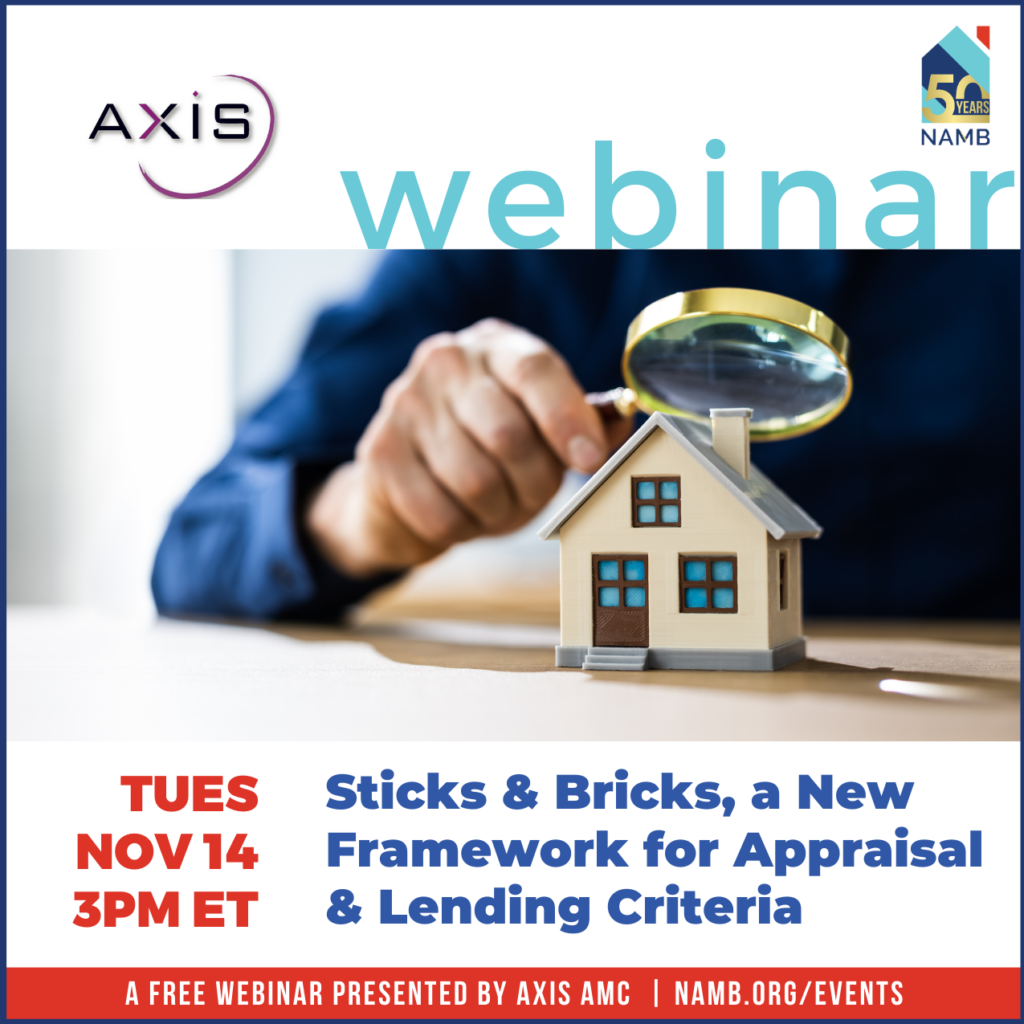 Tues, Nov 14, 2023, at 3pm ET
Join our conversation with VA's James Heaslet & USDA's Mike Schnetzler as we dig into the process of re-languaging appraisal reports & the evolving world of ADU's in the new real estate lending landscape. Moderated by Michael Simmons of AXIS Appraisal Management Solutions.
Meet the panelists:
James Heaslet, Chief of Construction and Valuation, Department of Veterans Affairs: The Chief Appraiser for the VA Loan Guaranty Service, responsible for developing policies and regulations, James is also a certified appraisal investigator & associate member of the Certified Fraud Examiners Association. He was appointed by the Governor of Arizona to the State Board of Appraisals where he served as Vice Chair & adjudicated more than 2,500 appraisal complaints during his 6-year tenure.
Mike Schnetzler, Appraisal Services Branch Chief, USDA Rural Development: Mike has worked at USDA since 2009 & has held various positions including State Appraiser for New Mexico, Area Director for RD, and Senior Appraiser for USDA RD. He currently serves as the Appraisal Services Branch Chief, overseeing regional appraisers nationwide to ensure appraisal review services for all USDA programs. As a member of the Program Support Staff, Mike is responsible for developing & implementing the appraisal review process, staff training & measuring appraisal risk.
Michael Simmons, Co-President & Co-Founder, AXIS Appraisal Management Solutions: Michael has 40-plis years' experience in the real estate industry, and serves as an active member of industry regulatory and compliance focused organizations with AARO (Association of Appraiser Regulatory Officials), CRN (Collateral Risk Network), and REVAA (Real Estate Valuation Advocacy Association) as well as NAMB, CAMP and the MBA.
Sign up today for our free webinar!