NAMB Roadshow – Louisville, KY
Mar 02, 2023 11:00AM—1:30PM
Location
Hotel Distil, Autograph Collection 101 West Main Street Louisville, KY 40202
Cost $0.00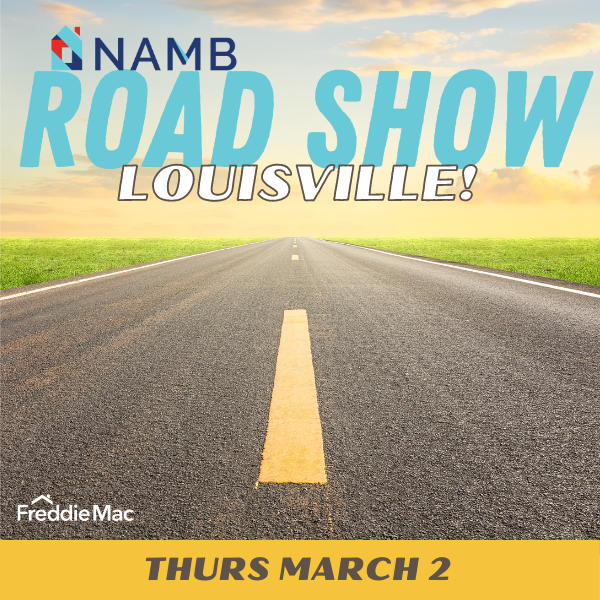 Join the National Association of Mortgage Brokers and Freddie Mac on Thursday, March 2, 2023 for our NAMB Road Show – Louisville!
11am – 1:30pm @ Hotel Distil, 101 West Main Street, Louisville, KY
This FREE event, which includes lunch, features informative sessions giving you tools and resources to help you and your consumers!
Agenda
11:00am – Registration begins
11:30am: Welcome Message from NAMB President Ernest Jones, Jr., CRMS
11:30am – 12:00pm: It's More than Real Estate, It's a Relationship presented by Jason Wetherington, Founding Partner of the Mosaic Network
How can you use the tools provided through market intel to propel yourself forward in 2023? Jason Wetherington, Founding Partner of the Mosaic Network will give you tips and tricks on how to use relationship skills to move yourself forward in your real estate journey.
A fourth-generation Floridian raised somewhere between the sun, surf, and sand of Fort Lauderdale, Jason has been serving real estate clients since 2015 and moved to Louisville in 2022.
After beginning his career at a number of boutique brokerages, Jason joined Keller Williams in December 2020. It was here he found the support necessary to scale his business to new heights. It was also at KW where he experienced firsthand the power of coaching and accountability which led to him founding "WhyWay" — a coaching company serving agents and entrepreneurs. He is also Founding Partner of the Mosaic Network, an expansion team serving Kentucky, Florida and new markets soon.
Propelled by a passion for community service, he has served on a number of non-profit boards, some of which include: Covenant House, CB Cares Foundation, the City of Fort Lauderdale's Historic Preservation Board, and is currently serving as Vice President of the Kentucky Chapter of Keller Williams Young Professionals.
12:00pm – 1:30pm (includes lunch): Navigating the Market in 2023 featuring Nora Guerra, Single Family Affordable Lending Manager
The face of the borrower is changing more rapidly than ever before. In today's shifting environment, connecting with growing homebuyer populations, building future client pipelines, and understanding unique needs and opportunities within diverse communities is more critical than ever. Use our actionable insights to deliver personalized solutions and enhanced customer experiences to drive repeat business and referrals within communities.
Join Freddie Mac Affordable Lending Manager Nora Guerra, as she shares the state of the Kentucky housing market; housing trends in the area; and innovative ways to navigate the road ahead in creating an impactful mortgage business for you.
Nora Guerra is part of the Single-Family Mission and Client Engagement Division. Nora supports Sales and Lending partners to develop and execute seller plans in meeting affordable lending, community outreach and CRA goals.
A veteran of 23 years in the mortgage industry. Mrs. Guerra joined Freddie Mac in 2019 and has held positions of leadership in sales origination, production and sourcing areas in a variety of areas including multicultural and low to moderate income segments.