NAMB Roadshow – Houston
Jun 09, 2023 11:00AM—2:00PM
Location
Houston Community College 3100 Main Street Houston, TX 77002
Cost $0.00
Categories free event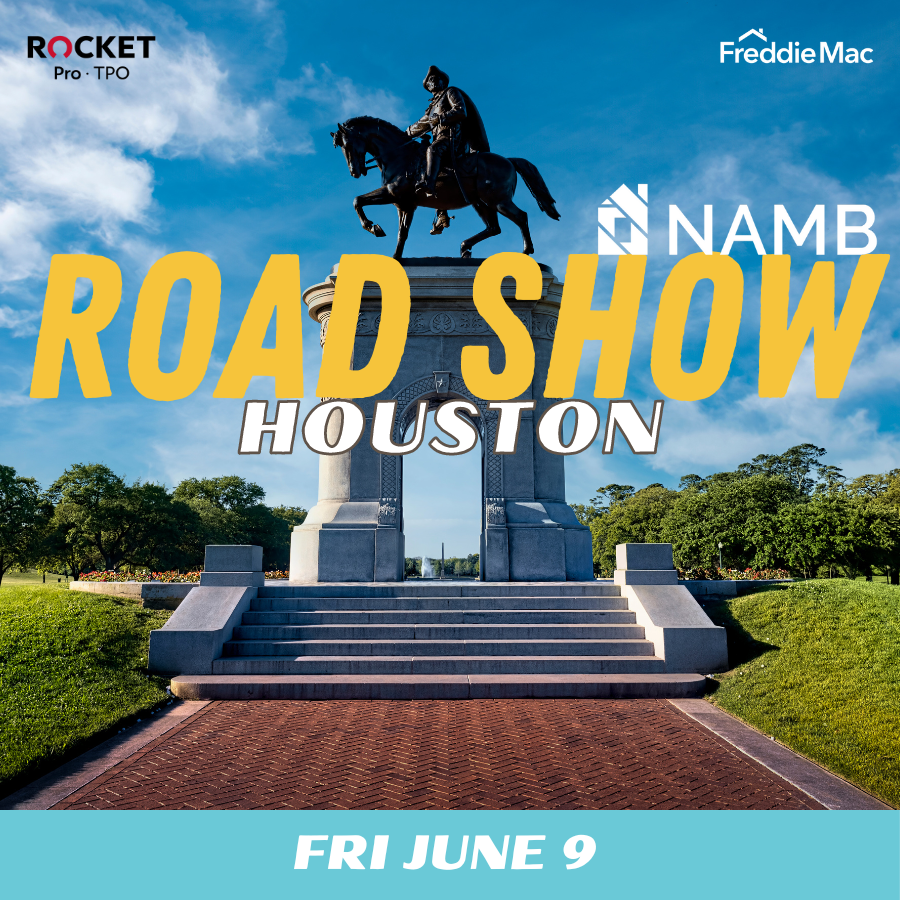 Join NAMB and Freddie Mac on Friday, June 9, 2023 for our NAMB Road Show – HOUSTON – sponsored by Rocket Pro TPO!
11am – 2:00pm @ Houston Community College (District Conference Center)
3100 Main Street | Houston, Texas 77002 (at Elgin St and Main St)
(Please Note: The parking garage entrance is located at the 900 block of Elgin, across from 3100 Main Street.  Parking in the garage is on Floors 6, 7 & 8 only. The skybridge is located on the third floor of the parking garage.)
This FREE event, which includes lunch, features informative sessions giving you tools and resources to help you and your consumers!
+++
AGENDA
11:00am: Registration begins (lunch available)
11:30am – 12:00pm: Realtor – Lender Partner Panel
Join us for an in-depth Realtor-Lender Partner panel. What are agents looking for in a lender? How can you generate more referral business through a realtor network? Don't miss this opportunity to learn how to expand your business through these valuable tools shared with those in attendance!
12:00pm – 12:15pm: Learn how Rocket Pro TPO can help you grow your business in 2023 with Mike Fawaz!
Mike Fawaz is the Executive Vice President of Rocket Pro TPO. He oversees a team based out of Detroit and Charlotte who provide the highest level of service to thousands of partner brokers, correspondent lenders, regional banks and credit unions across the country. Rocket Pro TPO partners provide incredible service to their clients, while tapping into the expertise, technology and award-winning process from Rocket Mortgage. Before his current position, Fawaz served as Senior Vice President of Sales for Rocket Pro TPO. In that role, he led all the Account Executives working with Rocket's broker partners. Fawaz also formed personal relationships with thousands of Rocket's mortgage broker partners, meeting with them to ensure their needs are met. Fawaz joined Rocket in 2011 as a mortgage banker, where he grew to understand the housing market through his work with many homeowners and buyers.
12:30pm – 2:00pm: Navigating the Market in 2023 featuring Nora Guerra, Single Family Affordable Lending Manager (includes lunch)
Now available for 1 hour of NMLS-approved continuing education (SAFE Elective), Course ID 15141 (NAMB – NMLS Approved Course Provider ID 1400224) Please Note: You will be required to provide valid proof of identification at the time of in-person attendance.
The face of the borrower is changing more rapidly than ever before. In today's shifting environment, connecting with growing homebuyer populations, building future client pipelines, and understanding unique needs and opportunities within diverse communities is more critical than ever. Use our actionable insights to deliver personalized solutions and enhanced customer experiences to drive repeat business and referrals within communities. Join Freddie Mac Affordable Lending Manager Nora Guerra, as she shares the state of the Houston housing market; housing trends in the area; and innovative ways to navigate the road ahead in creating an impactful mortgage business for you.
Nora Guerra is part of the Single-Family Mission and Client Engagement Division. Nora supports Sales and Lending partners to develop and execute seller plans in meeting affordable lending, community outreach and CRA goals. A veteran of 23 years in the mortgage industry. Mrs. Guerra joined Freddie Mac in 2019 and has held positions of leadership in sales origination, production and sourcing areas in a variety of areas including multicultural and low to moderate income segments.

The right partner makes sure you have convenient access to technology, resources, products and competitive pricing that will grow your business. Discover what top mortgage pros know: Rocket Pro TPO has your back and puts you first.