Inspire: A Women's Mentoring Group – "Taking it to the Top"
Aug 08, 2023 1:00PM—1:30PM
Location
ONLINE MEETUP
Cost $0.00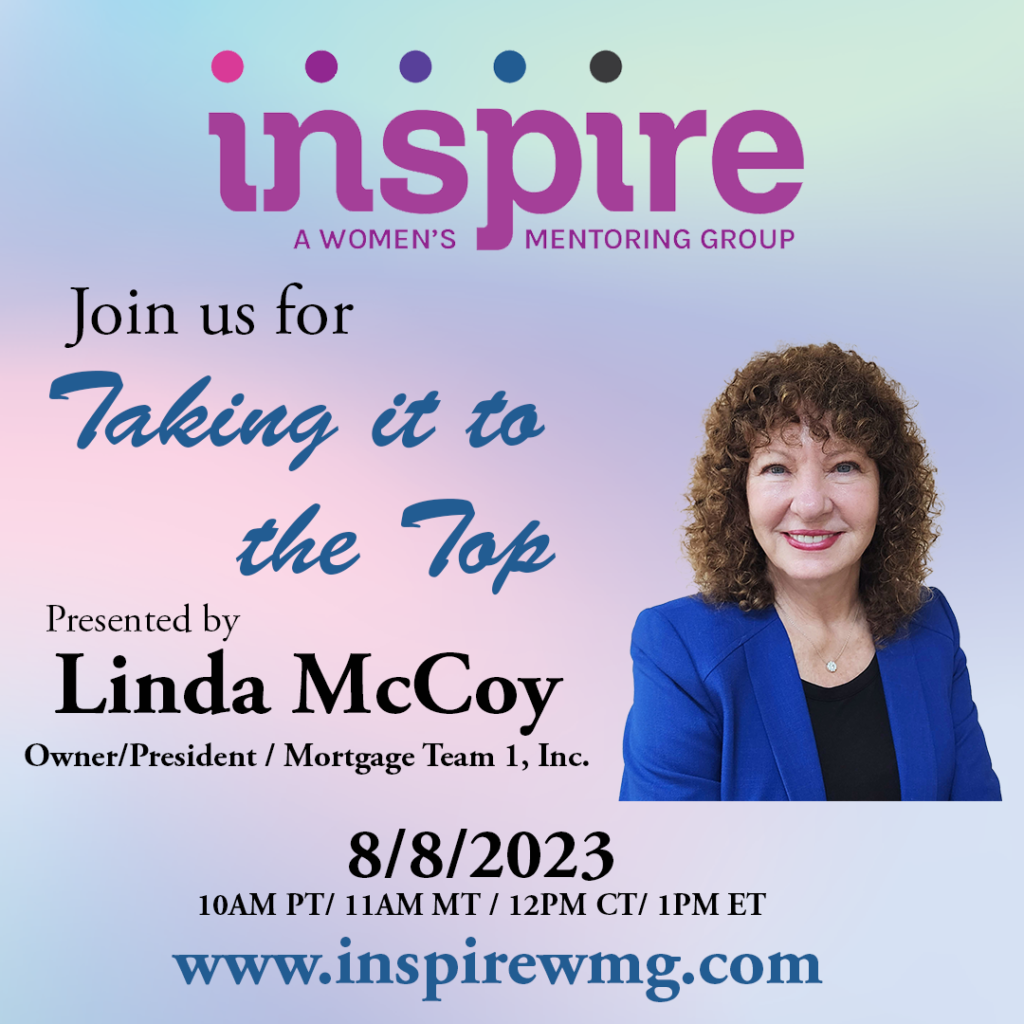 Join INSPIRE Tuesday, July 11, 2023, from 1pm – 1:30pm ET
Taking it to the Top
This month's speaker Linda McCoy is the creator and one of the founders of the Inspire group. Linda McCoy has been in the mortgage business since 1993. She started out originating with banks and soon became a top producer & branch manager of Chase Manhattan.  Linda opened her own business, Mortgage Team 1, Inc., in 2003. She was awarded the Rising Star Award by the Women's Business Center in Mobile, Alabama. From there she joined AMBA, her state mortgage association, and worked her way up to the presidency in 2010. 
Since 2011, Linda has served on the Board of Directors of NAMB (National Association of Mortgage Brokers). In 2021, she became NAMB's first woman president in 25 years. She is passionate about helping her industry & has chaired most of NAMB's committees (her favorite is Education).  As Education chair, Linda helped create many of the association's most popular certifications.  Linda received NAMB's highest award in 2018, "Mortgage Professional of the Year." She was a 2021 "Women with Vision Award" winner & was honored as one of the Trail Blazers. Linda also serves on the Board of Governors for the International Mortgage Brokers Foundation (IMBF) which has enabled her to share her passion and talents across the world.
Join us as Linda shares her tips for "Taking it to the Top"!
Build Your Business, Network and Grow
Get Inspired!

More about Inspire:
We are a free mentoring group of women that want to help other women succeed in business and become top leaders in our industry. We have women passionate about giving their time and talents to mentor others for success.  Please take time to attend our upcoming event on Tuesday, August 8, 2023, at 1 pm Eastern Time on Zoom. Remember it's only 30 minutes of your time once a month to take a step closer to where you aspire to be. 
Inspire is a mentoring group to help encourage, educate, and inspire all women to reach higher and higher to ultimately achieve their goals.