NAMB OFFERS A FREE COURTESY ASSOCIATE MEMBERSHIP!
Top 10 Reasons to Join NAMB
1 Be associated with an established industry group (founded in 1973)
2 Get legislative representation in Washington DC through our advocacy and NAMBPAC
3 Elevate yourself professionally by adhering to a strict Code of Ethics
4 Earn designations such as the GMA, CRMS and CMC
5 Be a Lending Integrity Professional and display the Lending Integrity Seal of Approval (LISA)
6 Get CVLS, CFMP, CREV, CCS and other industry-supported certifications
7 Continue your education with NAMB U classes, webinars and events
8 Enjoy valuable member discounts
9 Improve your tech game with NAMB Toolbox's tech-centric partners
10 Network with your peers at NAMB's national conferences!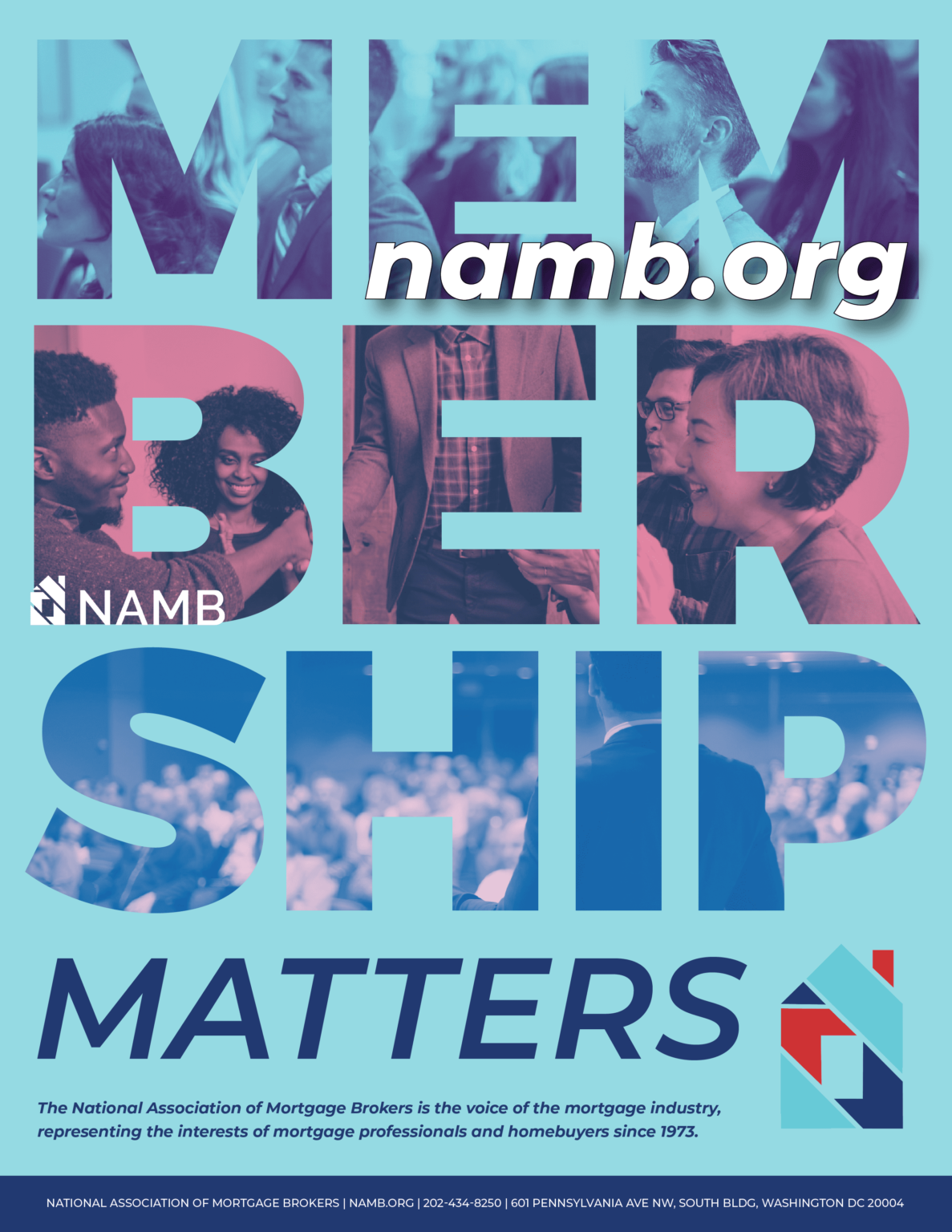 Professional associations provide opportunities to learn about industry trends,
to continue education and to connect with other professionals.
Magazine
NAMBCentral, your association publication, is published online, and is printed for annual conferences. Keep abreast of NAMB committee initiatives, meet industry leaders, learn strategies for success! 
Click to read the latest edition!
Email magazine@namb.org for advertising or editorial info!
Certifications
Get certified at NAMB U! Build competence & knowledge, achieve a higher degree of professionalism, demonstrate commitment to superior service & stand apart from the competition!
Click below to tour NAMB-U or select one of our many certifications under the "Education" tab!
Advocacy
NAMBPAC is the mortgage broker's voice in the halls of Congress.
The PAC's primary function is to support those elected officials whose voting record reflects the interests of our industry. 
Click to learn more about our voluntary, non-partisan Political Action Committee.
Networking
Mingle with your nationwide colleagues at NAMB's core events: Focus, our January marketing, sales & technology conference LRC, our spring legislative & regulatory conference in DC; and National in Vegas in the fall!
Click below to learn more about our conferences!
Recognition
The NAMB Awards honor top brokers & associate companies in 3 categories and 5 national regions. And the NAMB Top Veteran Lending Officer Awards recognizes veterans who currently work in the mortgage industry!
Visit nambawards.org to meet the latest NAMB Awards winners, and to learn about the next nomination period!
Discounts
Membership gets you keys to the NAMB Toolbox, a select group of established companies committed to helping mortgage professionals via their products, services, benefits, discounts and exceptional customer service.
Click through for offers from Aduvo, CardTapp, LiveSwitch, OnCourse Learning, USA Lending & many more!
Professional
An individual authorized to do business as reflected on NMLS Consumer Access and who meets the definition of a state licensed or federally registered Mortgage Loan Originator as defined by the SAFE Act.
Associate
An Associate Member is any individual who does not qualify for a Professional membership; typically a mortgage-associated business or service. This membership class does not carry voting rights.
Newly Licensed
Free!
Only for mortgage professionals who are newly licensed in the industry for the first time for less than one year. First-time members only. This membership class does not carry voting rights.
Courtesy
Free!
A Courtesy Associate Member is open to any individual regardless of whether they qualify for another membership classification. These members do not receive full benefits.
Monthly ($14.99/month) and Quarterly ($39.99/quarter) payment options available for our Professional and Associate memberships.*
*Please note: Auto renew is required for these options.